The St Louis JCC's 40th Annual Book Festival welcomed us to our largest attendance for our PowerPoint Presentaion, with many Q & A's and books to sign.
Back to Manhattan and Brooklyn to stop first at our favorite lunch headquarters, Gramercy Tavern, for their perfectly cooked Tavern Burger. Then up Broadway for our podcast interview with Anna Hezel for The TASTE Podcast at Penguin Random House's studios. Anna was previously with Food52. You can listen to our podcast on the link below.
BUTTON
And Food52's video studio was our next stop to do a Food52 YouTube episode with Kristen Miglore. Our Molasses Sugar Butter Cookie was the recipe for the most enjoyable no-stress video that Rose has ever experienced.
Click the link to view the video.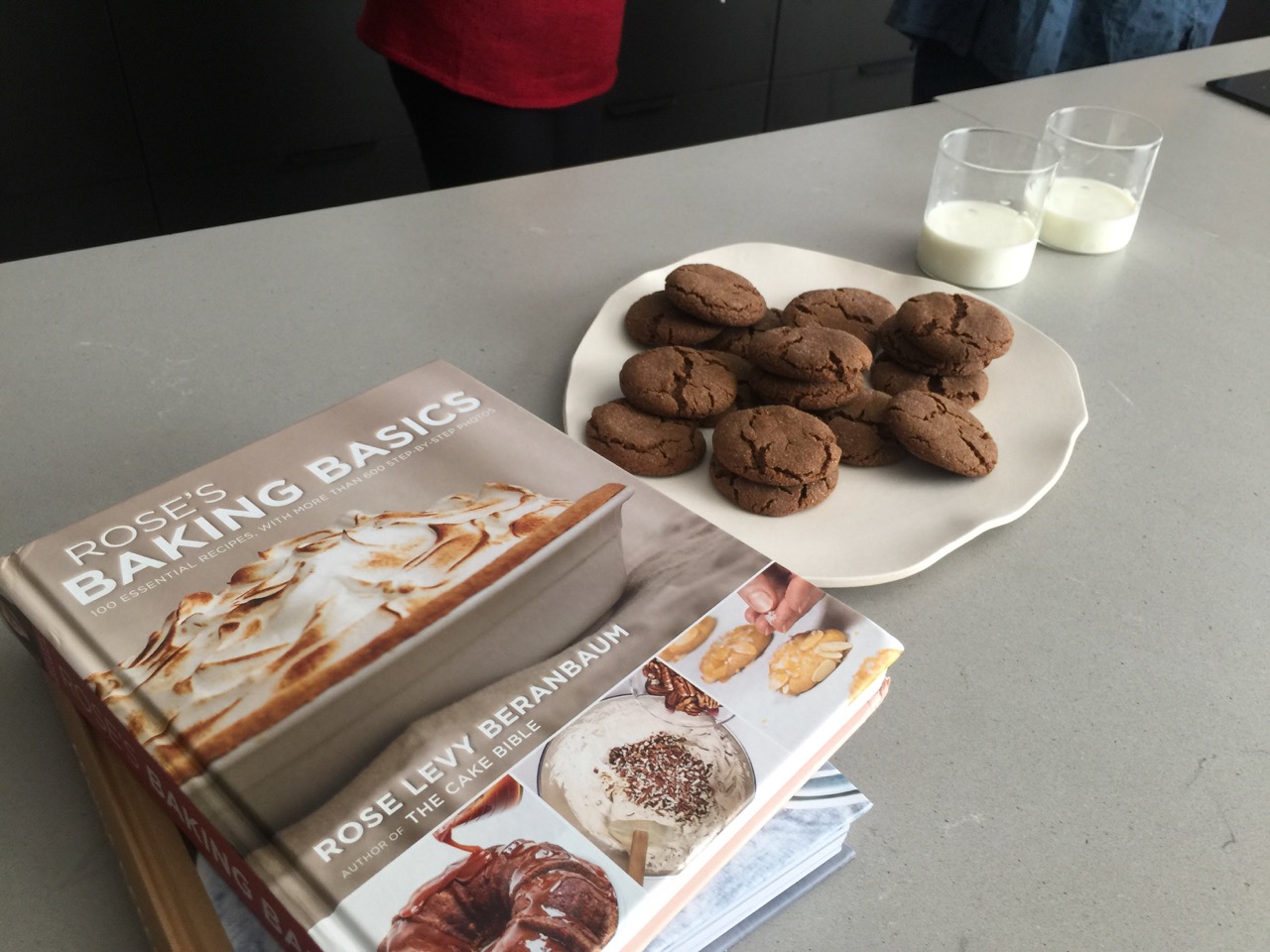 Evening was our first time visit to Four & Twenty Blackbird's main bakery in Brooklyn. Sisters Emily and Melissa have been making hand-made crafted pies for their bakeries since 2010, to international acclaim. We met them two years ago when the four of us were judges for Miro Uskokovic's annual employee pie contest at Gramercy Tavern, Manhattan. At the shop's bar-like counter, Emily interviewed Rose while attendees listened, asked questions, and tasted pies from the bakery. Mendy Greenstein, one of our Rose's Heavenly Cakes and The Baking Bible bake through bloggers chatted with Rose in person for the first time. And Rose was delighted to have several members of her family attend.
Cherrybombe University invited Umber Ahmad-Mah-ze-Dahr Bakery, Deb Perelman-Smitten Kitchen, Patti Paige-owner of Baked Ideas, and Rose to be judges for their team cookie competition. Along with judging the competition event, Cherrybombe U sold books from several authors, including ours.
A return to Miele's Showroom cooking school, in Princeton, NJ to give a demo of the Apple Walnut Bundt Cake. Vicky and staff made five recipes for the class attendees to enjoy while we did our presentation. We were delighted to meet two of our bloggers, one of whom travelled all the way from Maryland.
Fante's Kitchen Store, in the Italian market area of Philadelphia, was our final book signing stop before Thanksgiving. Another Alpha baker, Michele Simon and her husband, Smitty, came up from Raleigh, NC, with a basketful full of Rose's books to be signed and presents for both of us.
Colleagues TV host Pat Nogar and vegan specialist cookbook author Fran Costigan, who had recently moved to Philly came to get books and chat.
Michele and Smitty waited until we were done signing to go to a nearby coffee shop for a wonderful couple of hours of conversation and their giving us some loving gifts of a variety of vinegars, oils, and Michele's hand crafted glass work.
Our kindred friend, Mariella had two Philly cheese steaks for us to take home.